by Caroline Beightol
---
The global movement toward smart cities is underway, and digital twins are playing a leading role.
A "smart city" is a community that uses electronic means to collect valuable data surrounding the use and performance of its utilities, mobility patterns, and infrastructure by using tools like Internet of Things (IoT) sensors to record activities and changes in the urban environment. Digital twins often serve as the systems within which this data is represented and visualized. They are created by aggregating large sets of map and model data, visualized in real-time.
Many cities are already realizing the benefits of this technology, but adoption remains at a very early stage. Cityzenith, a software company dedicated to developing urban digital twins, expects 10 U.S. cities to join its Clean Cities Clean Futures Campaign this year to begin their transformation. According to ABI Research, the use of digital twins in urban planning could yield $280 billion in cost savings for cities globally by the year 2030.
By using these models, policymakers and municipal governments are able to gain a deeper understanding of what effects their design and planning decisions will have on their communities and, in the wake of a rapidly changing climate and growing urban demands, better equip their cities for the future.
Read more about how industry leaders within the smart city movement are leveraging Unity to bring urban digital twins to life.
The fourth largest city in Norway, Trondheim is located on the shore of Trondheim Fjord. Founded by Viking King Olav Tryggvason in 997, the city has a rich Nordic history. Like many cities around the world, Trondheim's geographic features necessitate densifying the existing urban landscape to allow for growth. This presents a notable design challenge, especially when coupled with the effort to preserve the city's longstanding beauty and charm.
In 2020, local architects went to work on modeling a vision for the future of their city in the Trondheim 2050 competition. The competition was a part of the city's larger effort to create comprehensive strategic plans for its growth across the next several decades, by inviting different perspectives and increasing public engagement with the planning process.
To model what Trondheim might look like in 2050, Martin Vitsø, Geodata Specialist for the City of Trondheim, turned to Unity.
"Unity was able to handle a big data load," says Vitsø. "I really liked having the ability to program scripts to take screenshots with high-level resolution and different projections, even 360 degrees."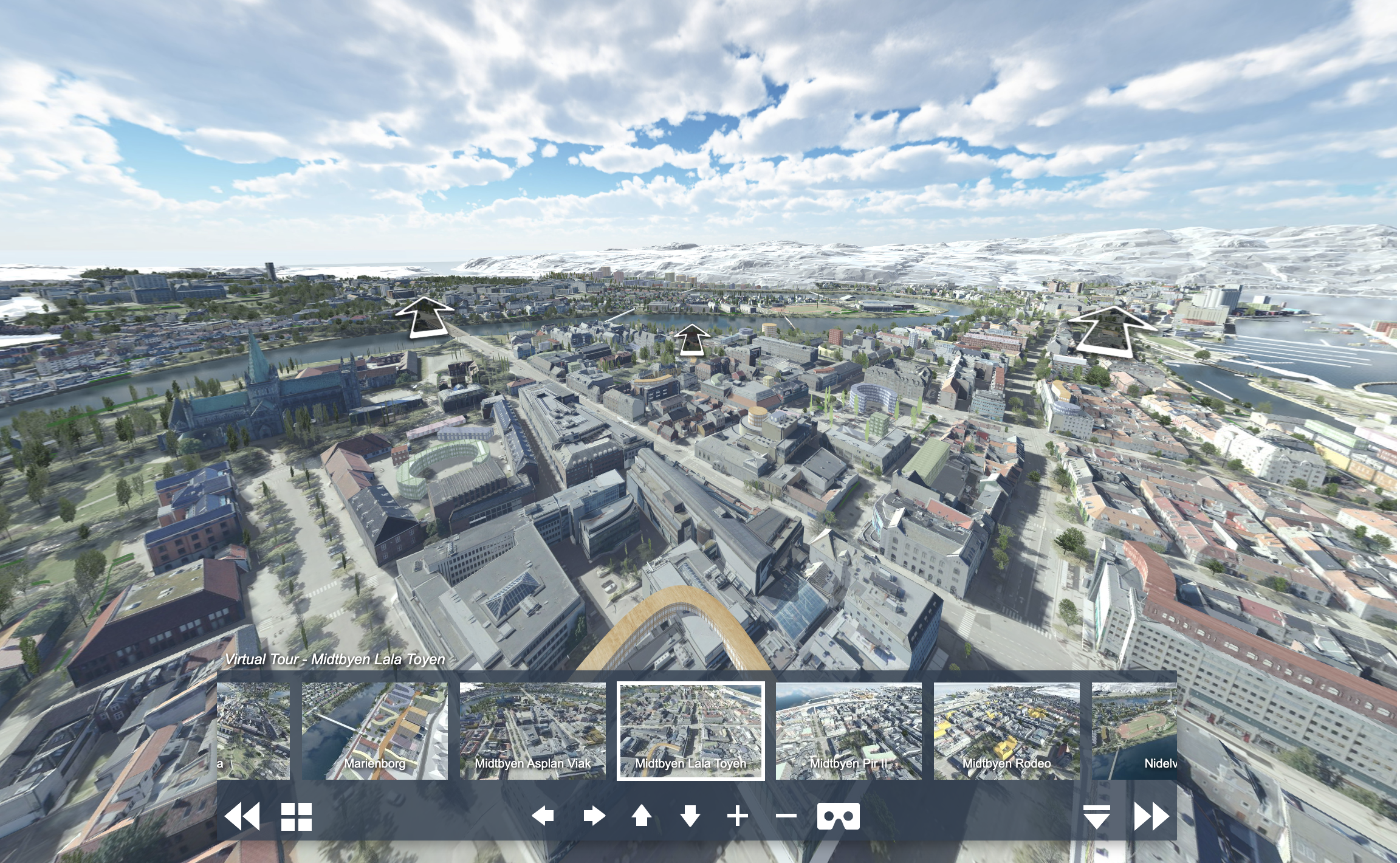 The result was a detailed digital view of the city, a 3D vision of Trondheim that allowed viewers to see each team's proposed buildings and infrastructure changes in context. Responses to the project from both the city and the public were very strong. "City staff members were very happy to bring 3D, VR and an interactive response map into the public participation mix. Generally, community involvement was mostly analog, consisting of public meetups and drawing on printed maps," Vitsø says.
"This way of doing things can hopefully bring a more diverse crowd to participate in the planning process. City planners have told me that many of the people who participate in conventional means of information sharing already know the process well and would have offered feedback anyway."
Headquartered in Finland, Sitowise is a Nordic expert in the built environment, with a strong focus on digitality. Sitowise operates in three business areas: real estate and buildings, infrastructure design, and digital solutions. Known as "the smart city company," its vision is to provide a durable and sustainable foundation for daily living. Sitowise was looking for a real-time 3D digital twin environment that could visualize and simulate the built environment. The team decided to design and engineer it in-house using Unity. The result was Aura, Sitowise's virtual environment for urban modeling, data management, real-time simulation, and interaction. Aura offers the full technological prerequisites for building a real-time, dynamic digital twin.
The Port of Oulu in Finland wanted to create a digital twin of the port infrastructure and link it to various IoT sensors and data sources. In a port setting, a digital twin can be used to plan and optimize operations, manage and observe security, and provide a platform for communication and collaboration between stakeholders.
Using Aura, built on Unity's real-time 3D development platform, Sitowise was able to create a digital twin of the port with high-quality visualization.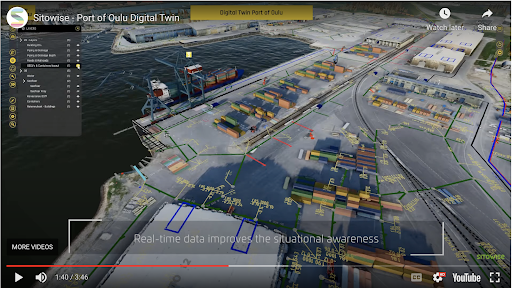 "The Port of Oulu is re-envisioning how a digitalized port of the future will operate and Sitowise is proud to be part of bringing this vision to life with Unity," says Moreira. "Our expertise in smart cities, digital twins, infrastructure, logistics planning, and engineering will aid us in providing modern digital services and competitive advantages to port stakeholders and exporting companies."
Vectuel, a French company providing visualization solutions, has spent more than a decade recreating the greater Paris metropolitan area in real-time 3D in Unity. Today, its enormous digital twin city spans over 2 million existing and proposed structures on 1,000 km² of territory.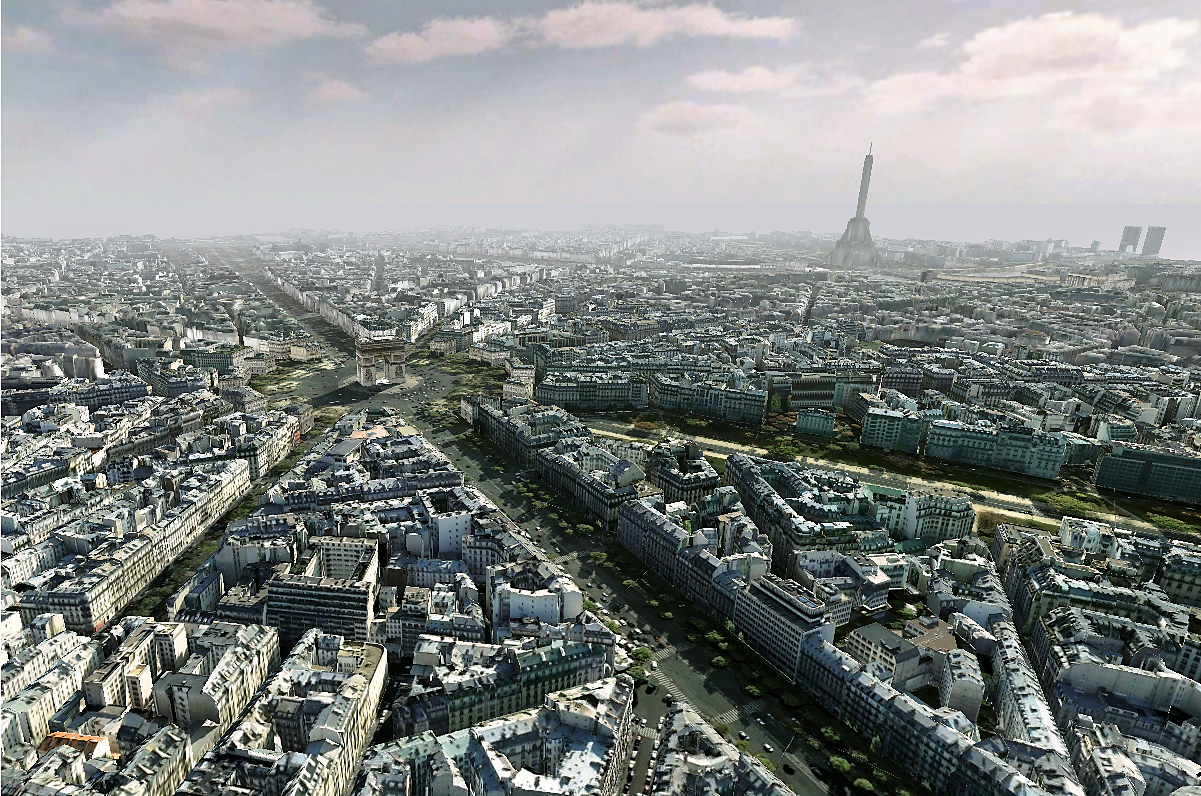 City officials and architects are working with Vectuel to design, review and construct buildings more efficiently. Creating digital replicas of the city's infrastructure, shared through Furioos, Unity's cloud streaming solution, allows for visualization at scale to improve and expedite decisions on architectural style, color, floor plans, and equipment placement – inevitably reducing downtime, construction time, and errors, as well as overall project costs.
Within Vectuel's digital twin, viewers can interact with particular areas of property in the greater Paris metropolitan area, allowing them to interpret projects within the broader urban context.
"We moved to Unity because it allowed us to publish to multiple devices, including the web," says Vectuel's CEO Grégory Morlet. "This was very important to us because our customers and the public need to be able to easily access the platform from any location. Unity's products have really helped this process become easier."
Vectuel's unified project vision has ensured that the digital twin can be used by many workers in a variety of roles. Not only can employees access the models from any jobsite, but they can also view the proposed buildings in the neighborhood before they are even built. Vectuel's visualization solution emphasizes an all-for-one principle – access for everyone in service of a unified vision.
The Vectuel model currently has approximately 250 projects in progress, including the Grand Paris Express expansion – the biggest transportation project in all of Europe. It is also linked to all urban planning projects in France, including the 2024 Paris Olympic Games. The Société du Grand Paris is working with Vectuel to plan its expansion of Paris's primary transportation system, which will include 4 new train lines and 68 new interconnected train stations – significantly cutting down commute times for Parisians.
Planning the expansion within the digital twin will enable engineers and architects to see how each train line and station will affect the surrounding neighborhoods, pedestrian and vehicular traffic flow, as well as further urban design and development.
"We want to help the people of Paris make informed decisions when it comes to feedback on proposed developments, know what their neighborhoods might look like in the future, and be a part of the community's growth," says Teïlo François, Vectuel's Director of Innovation. "Unity is helping us do that."