Product configurators built with Unity Forma give the customer the power to try out and select their customization preferences in real-time 3D.
By relying on Unity's product portfolio for marketing professionals, Onanoff, a global leader in safe, kid-friendly audio equipment, levelled up their digital marketing and customer experience. We partnered Onanoff with Visionaries 777, who leveraged the existing computer-aided design (CAD) data to create Onanoff's marketing content pipeline – proving that compelling personalization technologies are accessible to all companies.
Onanoff are reaping the rewards of fully embracing real-time 3D technology with Unity Forma and Forma Render. They can now offer 400% more design capacity for customer personalization, and their marketing material gets to market 2.5 months earlier. Onanoff challenges the common belief that only big industry players can afford cutting-edge real-time 3D customization technologies. In this blog we step through the process that Onanoff followed to get those amazing results. Read on to find out more.
"Unity Forma gives us the capabilities of a big company with the agility of a small one." – Pétur Hannes Ólafsson, CEO, Onanoff.
Check out their webinar to hear the story directly from Onanoff and Visionaries 777.
Recognizing the challenges, setting the goals
As a small company with fewer than 30 employees, Onanoff needs to be resourceful to successfully compete with bigger companies in their industry. They saw their competitors offering product customization, and they wanted to find a way to play the same game. To offer a truly customized service to their buyers, Onanoff needed to review their production processes. From their research they understood that without the proper tools, building a CAD to real-time 3D workflow is complex, disruptive and costly.
Bearing that in mind, and aiming to get the competitive edge, Onanoff decided to start with BuddyPhones, their line of easy-to-use, kid-safe headphones. They set three goals for their real-time 3D adoption:
Speed up the design and development process.
Offer multiple customer personalization options to meet the market need.
Reduce the time to get their product to market.
The end product: The configurator
Onanoff wanted to offer their customers a truly interactive online shopping experience with a dynamic product configurator, starting with their BuddyPhones product.
But wait – we've skipped ahead to the end of the process. Let's take a few steps back and look at each of the five challenges that Onanoff and Visionaries 777 faced along the way, and how they addressed them.
Challenge #1: Improving the design process
For Onanoff, the design process relied on a computer graphics (CG) pipeline, which presents some major drawbacks in the race to get a product to market. A major concern is the time required to render assets, which can range from 15 to 90+ minutes (depending on the complexity and resolution required). Waiting for assets to render after every design iteration is essentially non-productive "dead time." Only once rendered can each design iteration be reviewed by the various stakeholders.
Additionally, the CG pipeline requires extensive software expertise and high processing power. All of these factors amount to a CG pipeline that is inflexible, time-consuming and costly.
Solution: Rapid data preparation with Pixyz Plugin
Onanoff already had their CAD models, so Visionaries 777 used the Pixyz Plugin to directly ingest that model data. Pixyz Plugin accepts nearly 40 3D and CAD formats, so there was no need for Onanoff to rework their CAD model, which was built in SolidWorks. With automatic tessellation and UVs, getting the Onanoff model data optimized and ready to build their configurator was straightforward.
Pixyz Plugin imports CAD models and optimizes them for 3D processing.
Challenge #2: Better image fidelity, but quicker
Onanoff's concern was that the CG pipeline image fidelity wouldn't accurately portray the materials and fabrics used in their products. Everyone needs to see a true image of the product – not only customers, but also internal design teams and key stakeholders in the development process. They didn't want to add hours of rendering time to their production process, and they wanted to keep prototyping costs down.
Solution: Unity ArtEngine
Visionaries 777 knew the best way to achieve fidelity was with Unity ArtEngine, a tool for creating ultrarealistic materials using AI-assisted artistry. By scanning samples of the materials into Unity ArtEngine, Visionaries 777 easily created realistic textures and color variations. These can be imported directly into Unity Forma, ready to use in the configurator build.
Accelerate photoconversion of physically based rendered materials with Unity ArtEngine.
Achieving visual fidelity
Visionaries 777 recognized that additional work might be required to ensure the 2D textures of the materials were mapped in a realistic way to the 3D images (known as UV mapping). This is not unusual if the product has many overlapping geometry pieces in the 3D model, or if the data is not available (for example, for soft parts like cushions that do not exist in the CAD models).
Third-party tools are sometimes helpful in creating realistic soft material textures (UV mapping). This is where Unity's integration with third-party digital content creation (DCC) solutions, such as Autodesk Maya or 3ds Max, comes into play. Visionaries 777 finessed the 3D object UV mapping to make the textures and materials look their best using a third-party DCC tool, and then brought the materials back into Unity.
By processing the materials textures through ArtEngine and Unity Pro to create custom physically based rendering (PBR) materials – a quick and easy operation –, Visionaries 777 were then able to apply them to the configurator model. This ensured that the soft materials were accurately represented in Onanoff's configurator model.
Challenge #3: Delivering a complex range of customization options efficiently
The educational technology market is growing rapidly, with many educational programs now requiring a student-to-smart device ratio of 1:1. Onanoff allows their customers to personalize their products with their own brand colors and logos. They don't want their configurator technology to determine (or limit) the level of personalization they offer.
As such, Onanoff's configurator had to serve the needs of hundreds of different customers. With a render for a simple personalization taking up to 60 minutes, using a traditional CG pipeline simply wasn't efficient.
Solution: Unity Forma
For Visionaries 777, the only choice for the Onanoff configurator is Unity Forma, because it allows them to:
Rapidly import existing CAD model data.
Showcase products in realistic visual quality.
Offer endless personalization options.
Build easily and quickly, without the need for developers.
In a matter of days, Visionaries 777 delivered a fully operational product configurator – a process that would previously have taken several weeks.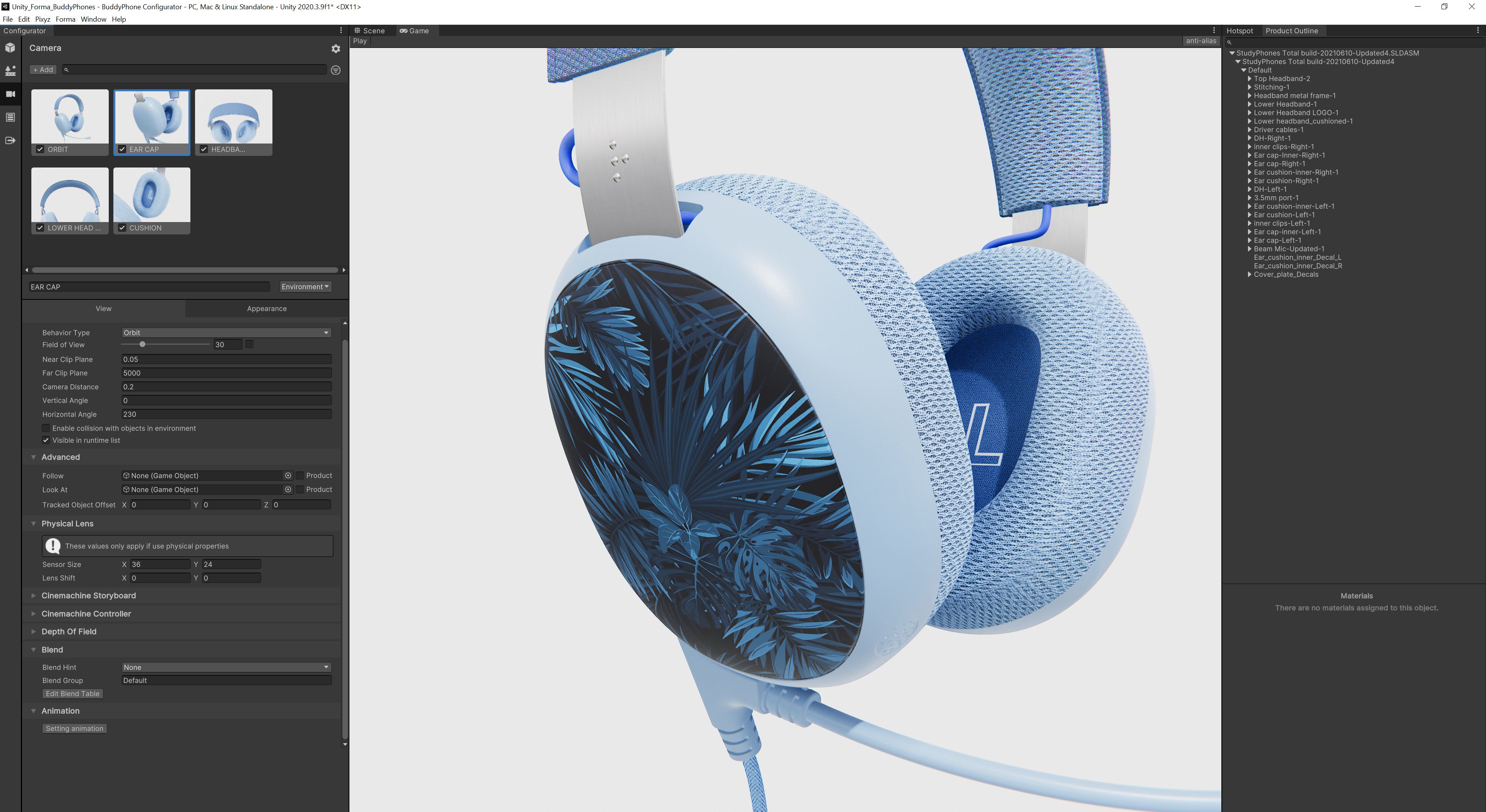 With Unity Forma it's easy to showcase all of your product options in real-time 3D
Challenge #4: Working with global teams
With teams in six different countries, Onanoff needed to make sure that everyone involved in product development was able to track progress and contribute to the process. Factors such as remote working, time zone differences and increased IT security must not compromise the product development or delay the launch. Relying on traditional prototyping and a CG pipeline wasn't going to meet their requirements.
Solution: Furioos cloud streaming
By deploying directly from Unity Forma to Furioos, Unity's cloud streaming solution, Visionaries 777 and Onanoff were able to share an interactive 3D product model in real-time.
The solution seamlessly addressed the concerns of sharing across time zones and technologies. Every team member can access the live configurator from their web browser – no software installation or high-powered graphics card required. This enables true collaboration, with teams able to view design iterations as they happen in the Furioos stream.
Challenge #5: Getting to market quicker
In a competitive market, the push to get your product to market as fast as possible is ever present. But a product launch requires supporting marketing materials such as packaging, digital advertising, printed collateral, and so on. Often created on tight timelines even before the first real-life samples are ready, marketing materials need to represent the new product accurately.
Solution: Forma Render
Onanoff needed to get their product to market quickly, and Forma Render provided the ideal solution. Forma Render now ships with Unity Forma, and it allows users to create high-quality 2D, 360° images and video directly from the real-time 3D model already built in Unity Forma.
Forma Render is:
A virtual photo and video studio, for producing 2D images and video content
An image-on-demand render engine that can respond to requests from websites or applications and deliver personalized content
A bulk rendering tool for mass content creation
This means Onanoff can create images of every possible product variation, from any virtual camera angle, and at multiple ratios and resolutions – dispelling the need to wait for prototypes (or time-consuming CG renders) and accelerating their marketing content production. And thanks to the accuracy of the Unity software, the Visionaries 777 team noted a 90% reduction in the need to carry out 3D asset retouching.
Unity Forma Render produces high-fidelity images, eliminating the need for costly photoshoots. With Unity technology, Onanoff created visual assets 70% faster than previously.
Challenges met, goals achieved
Frantz Lasorne, cofounder of Visionaries 777, said, "Unity Forma enables us to easily create high-quality and scalable interactive visualization in order to deliver compelling solutions to our clients."
To get their product to market in a competitive arena, Onanoff knew they would need to make some big changes to their product development and marketing workflows. Working in partnership with Visionaries 777, they've addressed those challenges. By leveraging the usability and flexibility of Unity's software for marketing experiences, Onanoff can now offer their customers a true personalization experience.
And those goals they set? See how they did:
Speed up the design and development process: 90% less retouching of 3D assets
Offer multiple customer personalization options to meet the market need: 400% more design capacity in the direct-to-customer model
Reduce the time to get their product to market: 2.5 months quicker to market with marketing materials
Get the detailed story by checking out the webinar with Onanoff and Visionaries 777.
Unity's marketing solutions provide brands with the tools to build marketing content that competes with the big players. Find out more about Unity Forma, or reach out to our Unity experts to try it for free.